RMweb is a truly international community with a not insignificant number of Australian-based members. Outside Australia however it is uncommon to see our railways modelled. While we are a very large land mass with a very small population, and rail operations are often as sparse as rainfall in the desert, there are some significant areas of traffic and the whole country is not without interest to the modeller. Australia runs the longest and heaviest trains in the World (the Pilbara iron ore operations in a very remote and inhospitable region and not linked to any other railway) and is well-known for the dead straight Nullarbor Plain between Adelaide and Kalgoorlie.
Australia is home to around 22 million people which is roughly the same number as live in the Greater London region. The majority of our thinly-scattered population lives on or very close to the eastern coast and most then are in the major State Capital cities. Of those Sydney has the largest population and the largest rail network. Melbourne is very close behind in population and potentially set to overtake within 10 - 15 years; it also has a reasonable suburban operation and is famed for having the largest tramway network in, depending upon your source, the Western World, the English-speaking World or the entire World. Brisbane and Perth fall into the next smaller size category and each has a suburban rail operation, that of Brisbane being almost comparable for size with Melbourne. Adelaide has a modest local network and alone among our Capitals it is not electrified. Canberra, our National (Federal) Capital, has the ignominy of being at the end of a single track branch line and would make a decent BLT model and Darwin is at the end of one of the longest and most remote rail routes on the planet. There remains a small freight rail operation in Tasmania though no commercial passenger services.
Victoria is the most densely populated State and has a reasonable regional rail service; New South Wales has some inter-city and regional services and Queensland has the coast line to Cairns with vestigial passenger services running two or three times a week on a few inland routes. There are two infrequent regional services operating out of Perth, to Bunbury and to Kalgoorlie. Aside from the passenger operations there is a plethora of freight routes often with extremely sparse or seasonal services based on traffic type. Queensland is famed for its vast network of sugar cane railways.
There are three main gauges in use. Standard (1435mm to Aussies, or 4' 8 1/2" ) is used throughout New South Wales and is the gauge of the national interstate routes which basically comprises Brisbane - Sydney - Melbourne - Adelaide - Perth and Sydney - Adelaide - Alice Springs - Darwin. Irish Broad Gauge (1600mm or 5' 3") is used by Melbourne and Victorian regional routes in most cases though there is some standard gauge regional freight traffic in the far west. This is also the gauge of the Adelaide suburban system. Narrow (1067mm or 3' 6") gauge is used throughout Queensland, Tasmania and Western Australia for intra-state workings though most Queensland sugar cane lines are 2' 0" gauge.
There is a number of enthusiast-oriented web sites of which perhaps the most useful would be:
Railpage Australia at
http://www.railpage.com.au/
where the forums will be found to contain discussion, speculation and fact on any topic you can think of. The site has very high traffic and is afflicted in the same way as RMweb currently it with rather frequent server overload outages. If it is offline come back a day or so later and try again.
John Cleverdon's Locopage, hosted by Railpage servers and at
http://locopage.railpage.org.au/
(note that .org in this url is correct as this links to a different server to the main .com site) which contains extensive listings and technical details, not to mention images, of Australian locomotives. There is a downloadable database attached to the site which allows you to keep regularly updated.
The various suburban and regional multiple unit operations are not dealt with at Locopage. As there is a rather smaller railfan community in Australia than some other countries it can be harder to obtain up to date information on the suburban electric and diesel fleets. One excellent source for Victorian operations, and which includes comprehensive details of the trams in Melbourne as well, is
http://www.vicsig.net
So ..... onto some prototype images of my own:-
A sight which may now be unique to Melbourne is the tram : train crossing square. Here we see a Z2 class tram crossing the triple rail tracks at Glenhuntly. Trams run on standard gauge track at 600V dc while trains here are on broad gauge at 1500V dc. At each of the four locations (the others are Kooyong, Gardiner and Riversdale) where this spectacle may be seen there is a control cabin. The controller switches the voltage as required.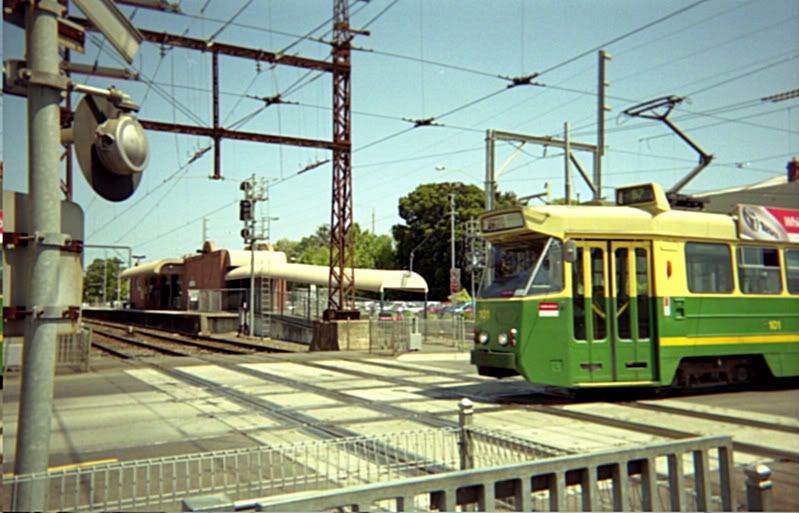 Many Australian rail lines are unfenced including through suburbia. Here we see an example as a Comeng-built Melbourne suburban train travels beside residential streets near Ormond.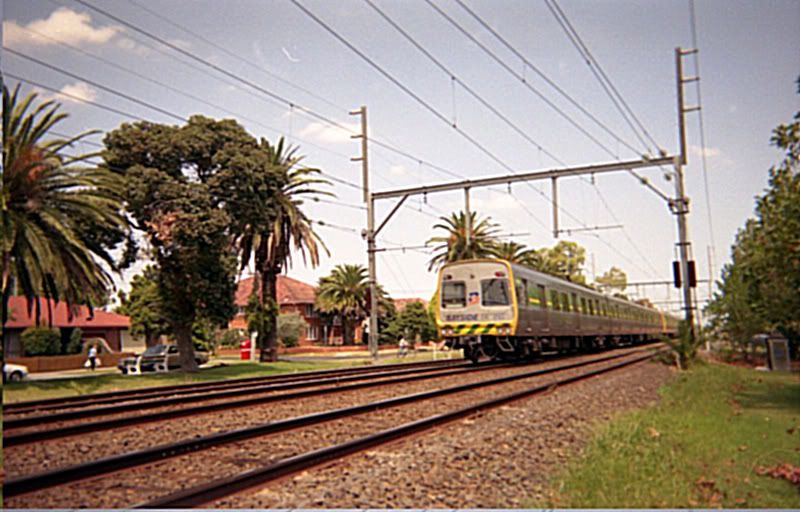 Moving north to Brisbane, at the main Roma Street station, we see the driver of an InterCity emu set wearing the regulation shorts in tropical heat as he checks he is clear to leave with a train for sugar-cane country to the north. These trains operate on 25kV ac as Brisbane electrified later than the southern cities and took advantage of more recent technology. The extensive use of painted corrugated tin for roofing and shelters is also a typical Australian feature.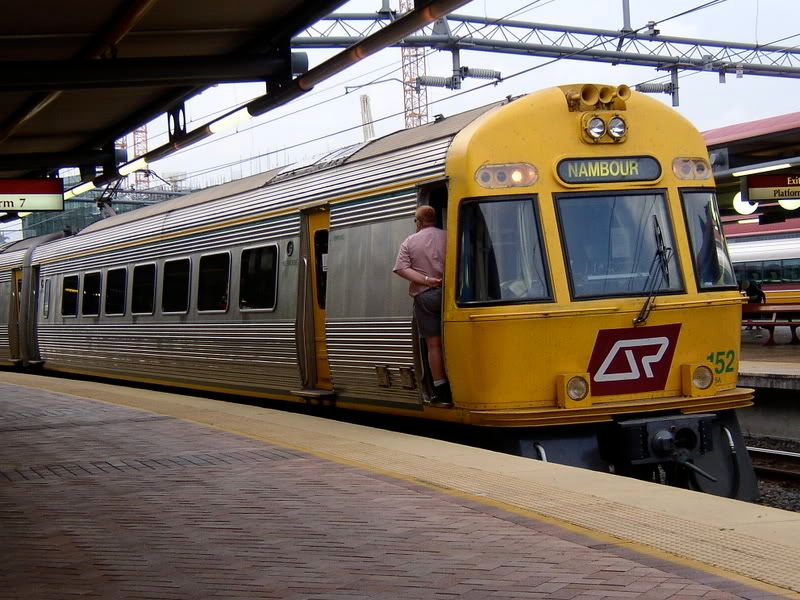 Getting the message across Queensland Rail-style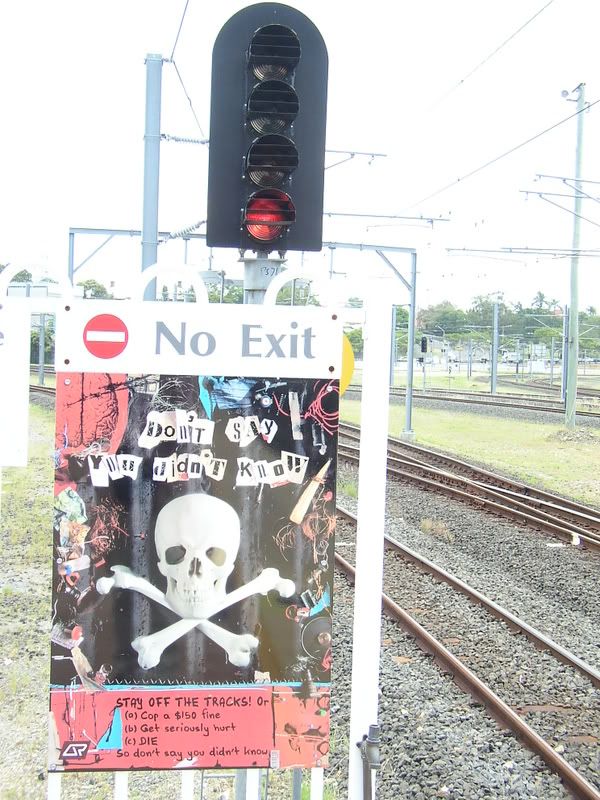 In far north Queensland we see a 2360-class diesel electric waiting time at the new Townsville station with a southbound "Sunlander" working from Cairns to Brisbane; this train would at that time have been electrically-hauled south of Rockhampton by a 3900-class.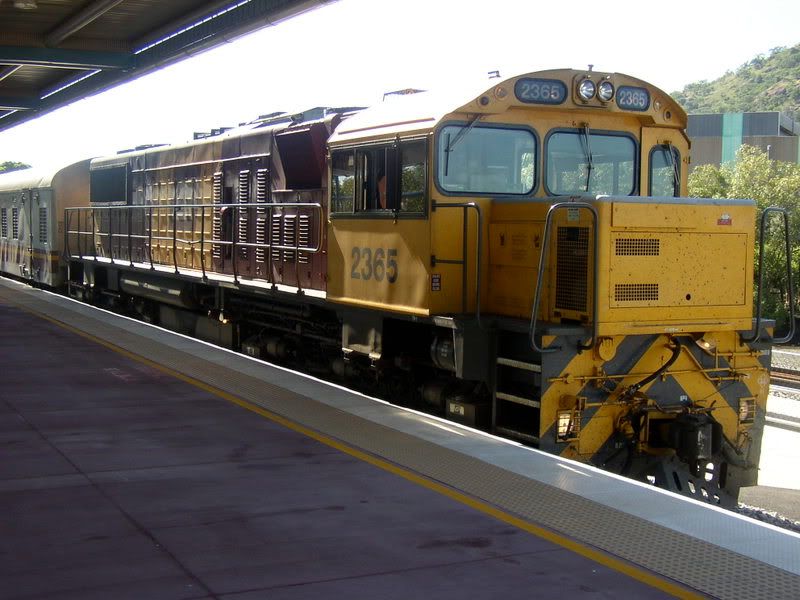 Standard gauge freight on a dual-gauge line; 81-class 8173 and a GL-class loco wait for the all-clear to cross Footscray Road beneath the Tullamarine Freeway in Melbourne and enter the docks complex. The 81 is in a now-defunct livery of NSW State Rail, the GL just shows its more recent CFCLA (Chicago Freight Car Leasing Australia) livery alluding to the open access regime now in force.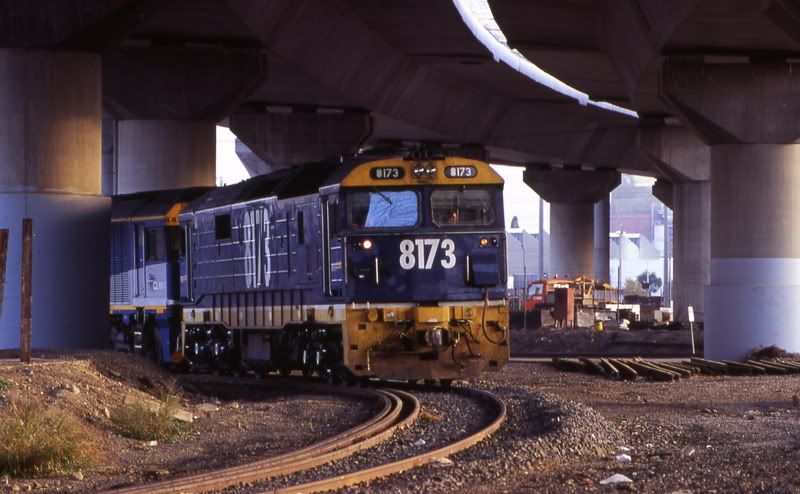 NR-class locomotive NR75 stands at Alice Springs station with the southbound "Ghan" tourist train. The loco was named "Steve Irwin" at the time but was renamed following the sad demise of one of our iconic personalities. This is the only regular passenger operation on the Adelaide - Darwin route running once or twice each week. The loco is one of the 119 remaining (of 120 built) in the class which are used mostly on heavy interstate freight often with two, three or more locomotives in a "lash-up". Their use on passenger trains is confined to this, the Indian Pacific (Sydney - Perth) and the Overland (Melbourne - Adelaide) none of which operates daily. All are on standard gauge.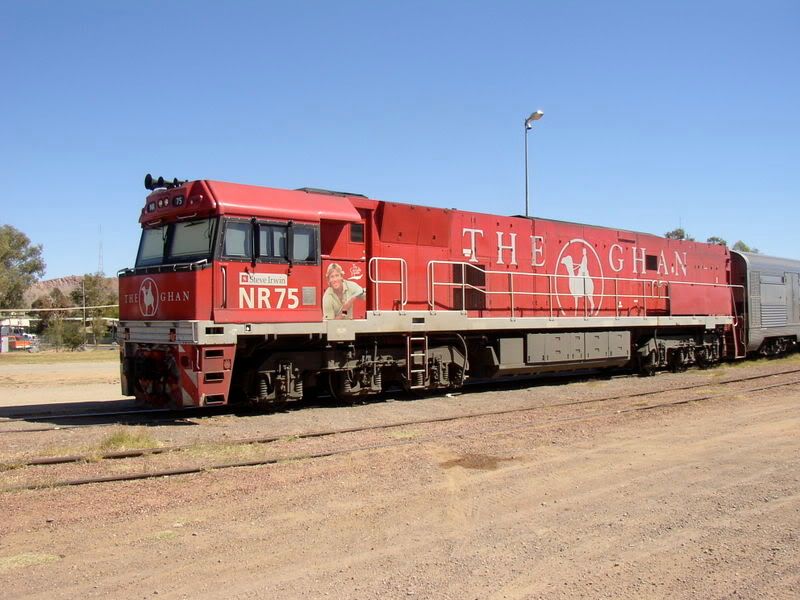 Victoria has some diesel-hauled passenger services on regional lines though many are now in the hands of modern Sprinter and V/Locity dmu types. One anachronism was the outer suburban line between Frankston and Stony Point. This continues beyond where electric trains stop to link several outlying towns, a steel plant (which generates two daily freights) and a ferry link to some islands. Until a couple of years ago the train was worked, as shown here, by an A-class loco built in 1952 and a couple of former suburban coaches (one of which is glimpsed in the distance) which were mere youths dating from 1957. The signalling was antique as well! A60 runs round at Frankston.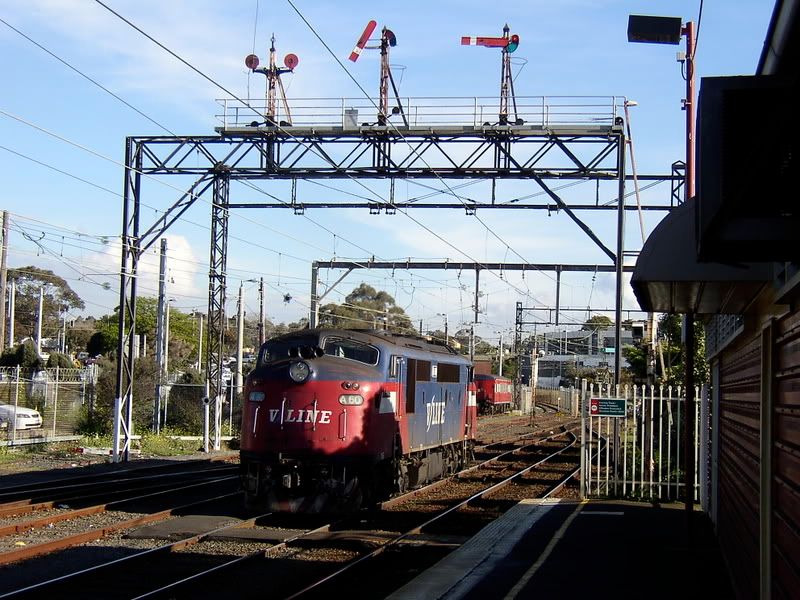 The service has been modernised and is now worked with new signalling and axle counters replacing electric train staffs, and sprinters are in use such as this one seen north of Melbourne at Heathcote Junction. Steep gradients abound in Australia as can be seen here.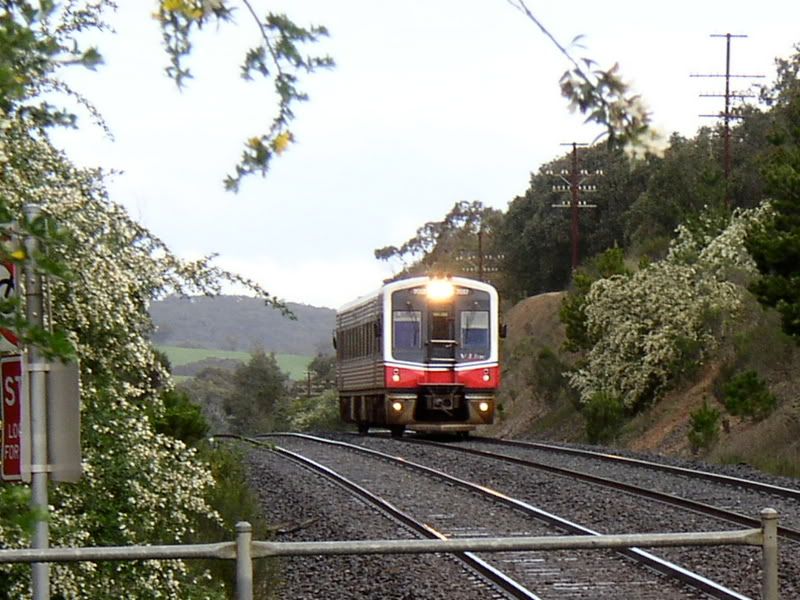 In the New South Wales Hunter Valley you will find Australia's only 4-track main line, between the outskirts of Newcastle and Maitland. Here at the diminutive station of Sandgate, empty and loaded coal trains pass with wagons receding into the distance.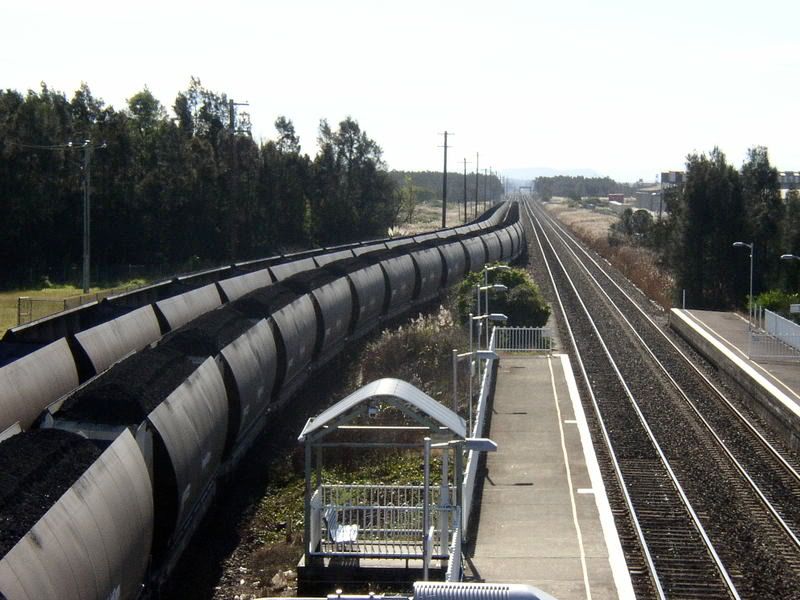 The XPT, an Australian equivalent of the HST, seen at Albury station on a Sydney - Melbourne run.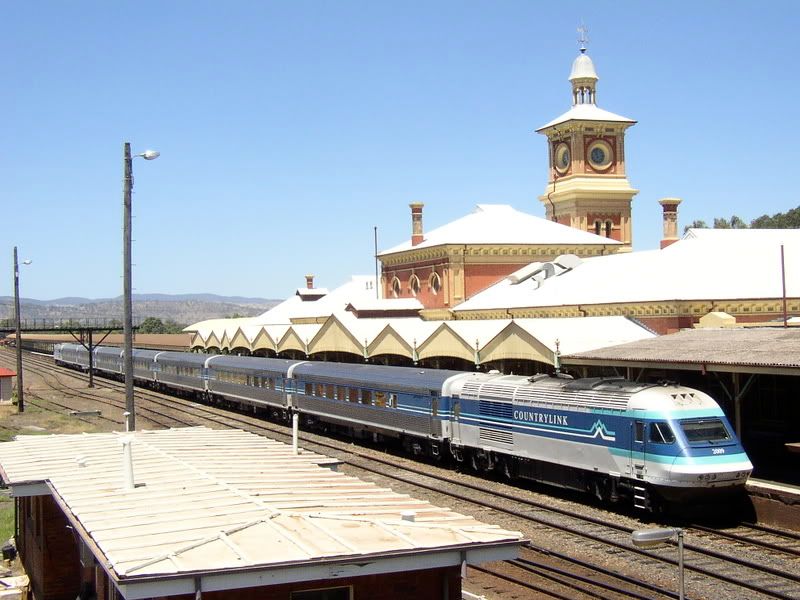 Moving back north to Brisbane here is one of the unusual Tri-Bo electric locos of which Queensland Rail runs a large number mostly on heavy coal trains in the Blackwater and Goonyella regions. This one is heading a northbound "Sunlander" train at Brisbane Roma Street which will arrive at its destination in Cairns some 30 hours later!