A little while ago I showed the results of some experiments with DAS clay to produce the inset track for Ropley yard. I was pleased enough with the results to know this is how I'm going to tackle the shed area once I reach that stage of the layout, but since then I've been giving some though to the more 'normal' ballast for the main lines through the station and around the ash pit.
For my modern image test board I used Woodland scenics fine ballast, although for N it isn't really fine enough, and with easitrac this is highlighted even more. I've seen a lot of people mention the use of find sand, so this is one method I intend to try out, but I also needed something that would represent track as shown around the point in the picture below:

Even sand is probably going to be too course for this sort of muddy ballast, so again I turned to DAS. A short length of easitrac was glued to the same lenght of 2x1 as the buried test, but this time the rails were removed once the glue had set. Das was then pushed between the sleepers and smoothed level with the tops, taking care not to clog the chairs. The DAS was then stippled with a stiff brush to give some texture to it.
After the DAS had dried out, the rail was rethreaded onto the sleepers and then the whole lot was first sprayed with Plasticote suede texture paint, then Halfords grey primer before being given a wash of thinned black. A thin wash of rust was then washed along the rails whilst the black was still wet. Once this was dry the rails were painted rust.
The effect is pretty close to what I'm after and just needs some tweaks to the colouring to get a good match. Overall I'm pretty happy with how it turned out but I'll let you judge from the photos: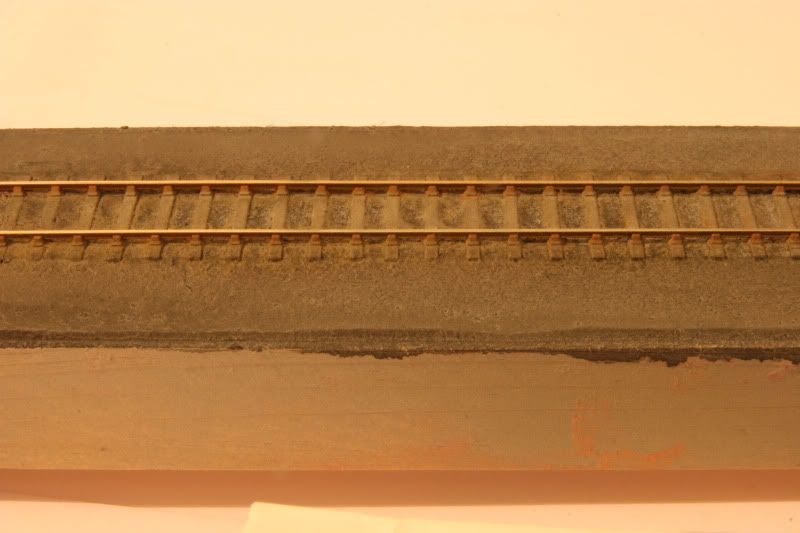 I'm back up at the folks next week and I hope to get the 1st board finished, the track bed laid and a start made on track laying, so there'll be another blog update towards the end of next week.
Cheers all!
Tom.