I guess it seems strange starting a blog about a layout with a post about an entirely different layout, but it highlights some of the thinking behind the new layout, and I feel it sometimes helps to have a little of the past to understand the present and the future. The old thread containing more info about the construction of the layout can be found here:
http://www.rmweb.co.uk/forum/viewtopic.php?f=76&t=608
Chittle was my entry in the 2007 layout challenge, which was for layouts with a total area of less than 6 square feet. This introduced a couple of compromises, particularly in terms of shape and, of course, overall size. The biggest compromise, for me, was the inability to capture the feel of railway running through the landscape as much as I wanted. I didn't want the layout to feel crowded, so the final track plan was as simple as possible, but this did limit operation somewhat. After operating sessions on Bleakhouse Road, I decided that whatever I did next needed to have more operating potential, and more shunting to keep me occupied.
Starting from scratch, and never having built a layout before, I wasn't really sure what I was doing, so there was a large element of making things up as I went along. Initially I wasn't going to use point motors, but eventually decided I wanted to. Unfortunately, I hadn't designed the layout with them in mind, so ended having to chop holes out of the polystyrene, and glue plywood into the apertures, making much more work for myself than I ever needed to do. The extruded styrene did make for a strong and lightweight base though, and I will probably use it for a layout again in the future.
Having more locos than anything else (that always seems to happen!) meant that it would have to be a small depot of some description, but I wanted it to be different - not another depot layout with a Pikestuff shed, and Knightwing fuelling point. I did end up with the Knightwing fuelling point (but used the less common roof option to try and disguise that...
Various avenues of research led to Peterborough stabling point (the EWS one) as a basis for the shed and fuelling point. Again, I hadn't built a structure from scratch, so didn't really know what I was doing. I figured, in the end, that as it was to be an open building, so the interior would be visible, it would be a good idea to build it like the real thing. Wills sheets were used for the base of the building, glued back-to-back to give the necessary thickness, and brick patterns on both sides. The top of the structure as then built up with Evergreen styrene girders, styrene battening, and embossed plasticard cladding on that.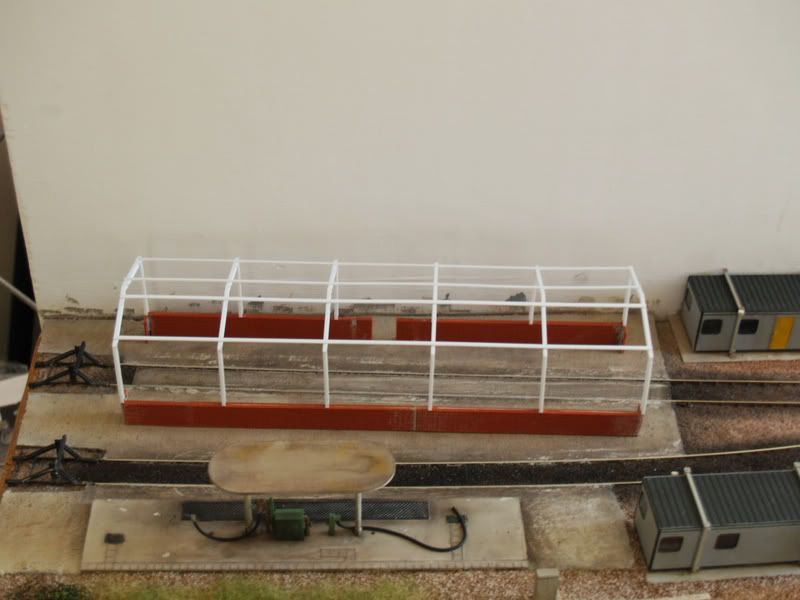 During construction I put lights on one building as an experiment after fiding some LEDs that looked like industrial lighting in both white and yellow. It worked, so all of the building on the layout were equipped with working lights, with the hope that it would work for taking night photos on the layout. In the end it was something that worked quite well, and it was worth the extra effort.

Scenery was a mix of static grass, and Woodland Scenics foliage, along with some brambles made from rubberised horse hair. Scenic methods mostly came from the Captain Kernow Scenery Clinic Service, which was most enlightning, although I used spraymount for speed, rather than the more usual PVA. The deadline was rapidly approaching by this stage!
I didn't think it would be finished in time, but to my amazement it was, although circumstances at the time helped. Even more of an amazement was it winning
I still can't get over it to this day. Following this, it appeared at both the main and SWAG hosted members days, and one exhibition. It's recently gone to a new home to clear space for the incoming project.
There are many lessons I've learned during the construction and operation of the layout, probably too many to mention here - although the major ones are the operational interest, and not using points of too tight a radius - A5s are probably OK for small steam locos and shorter wagons, but cause problems with a lot of modern stock. Other lessons learned will crop up in the next update about the current project. See, I said there was a point to all this